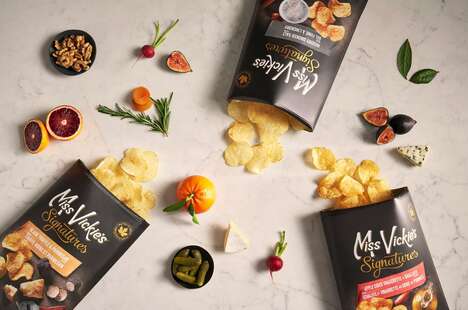 The new Miss Vickie's® Signatures collection features three premium flavors — Black Truffle & Parmesan, Apple Cider Vinaigrette & Shallots and Hickory Smoked Salt — that are each inspired by popular gourmet ingredients.
Teaming up with celebrity chef and TV personality Eden Grinshpan, Miss Vickie's® is sharing the chef's DIY charcuterie tutorials with consumers on its YouTube channel. Grinshpan, who has been named the official Miss Vickie's® Signatures Chip Sommelier has specially designed with each board with the new chip flavors in mind. Grinshpan has created complementary snack pairings for each with fine meats, cheeses, nuts, fresh fruit and honey featured as just some of the tasty pairings.
Known for its premium, kettle cooked potato chips, Miss Vickie's® is helping to set consumers up for more seamless entertaining with its newest range of flavors. Its Chip Sommerlier partnership also speaks to the brand's understanding of growing consumer desires for artisan snack options at an accessible price point and for expert-curated recipes that help take those snacks to new heights.
Image Credit: Miss Vickie's®